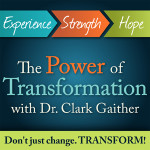 Burnout rates among professionals, especially healthcare providers, are approaching epidemic proportions. Sixty percent of physicians say they would quit practicing today if they were financially secure enough.
What is professional burnout? How is it defined and why is it important to identify? How easy is it to spot the signs of professional burnout? Can burnout in the workplace be prevented or even treated? Left untreated, what are the consequences of professional burnout?
Please join me, Dr. Clark Gaither, as we explore this and much more in this episode of The Power of Transformation.

Podcast: Play in new window | Download