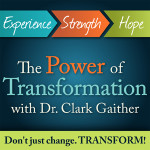 Sometimes when people burn out they act out and sometimes that is with alcohol, drugs or other addictive behaviors. When someone becomes addicted, they will never be able to fully address the issue of burnout until the addiction is adequately treated and dealt with first. This is never easy.
The addicted individual will tend to play certain head games  in order to protect their addiction even though they may be self-destructing. This is the very nature of addicted brain thinking – baffling!
Please join me, Dr. Clark Gaither, as I discuss this and more in this episode of The Power of Transformation.

Podcast: Play in new window | Download