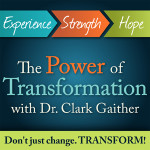 What is one of the most important aspects of lasting and meaningful recovery? It should be the singular imperative for anyone seeking recovery from alcohol, drugs or other addictive behaviors. Without knowing this one key aspect, lasting and meaningful recovery becomes extremely difficult at best and very nearly impossible at worst.
Even for anyone who has never experienced addiction, embracing this singular imperative becomes paramount for a happy, fulfilling and meaningful life.  What could hold such promise?
Well, lets explore that. Join me, Dr. Clark Gaither, as we explore this and more in this episode of The Power of Transformation.

Podcast: Play in new window | Download