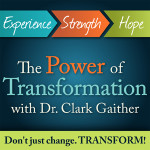 Have you ever felt terribly discouraged, whipped, or defeated and someone gave you some words of encouragement that made all the difference? Small words, simple words, delivered by just the right person at just the right moment can make a tremendous impact in the life of another. Words also have the ability to do great harm. I'll bet during your lifetime you have been the recipient of both kinds of words. Now, which kinds of words do you most often deliver to those around you?
You are probably aware of the messages you receive from others everyday. Are you fully aware of the messages you deliver to others everyday and the impact they can make?
Please join me, Dr. Clark Gaither, as I discuss this and more in this week's episode of The Power of Transformation.

Podcast: Play in new window | Download