Product Offerings
The

REIGNITE

Workbook –
From Burned Out to On Fire!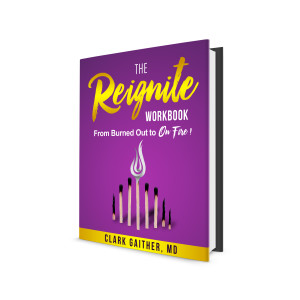 REIGNITE, the workbook, contains the REIGNITE Framework for identifying, mitigating, alleviating and preventing job related burnout among physicians and other professionals. Whether you are just beginning your career, beginning to burn out, or are already feeling burned out, this course work will help you. This guide contains real-life practical information to help prevent or restore damaged lives and careers due to burnout. Is it possible to retain or recapture your personal joy and pleasure in meaningful and purposeful work and in life? The answer is YES! It's time to REIGNITE and this workbook can show you how.
You can purchase the paperback version of The REIGNITE Workbook directly from this website by clicking on the Add to Cart button below.
The REIGNITE Workbook is also available at Amazon by simply clicking HERE.
*******************

POWERFUL WORDS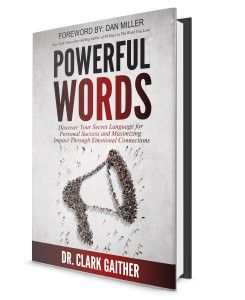 POWERFUL WORDS helps writer, speakers and legacy builders discover their own words of power to better connect with others on an emotional level to maximize the impact their unique message will have on the world.
This book is about POWERFUL WORDS, words which hold great significance and personal power for you, me, everyone. Some Powerful Words we share in common. Many of them are different, but we all share one greatly important aspect of these words – the emotional impact they have had on us and how they have shaped and continue to reshape our lives.
You have seen them. You have read them. You have heard them all of your life. You knew they were powerful the moment you read them or heard them because not only did you read them or hear them, you felt them.
You felt them deep inside. Perhaps they caught you by surprise and moved you in ways that were unexpected. Perhaps they served to propel you into some kind of action. Maybe they made you feel angry, or thrilled, or grateful, or maybe they made you laugh or cry.
You remember them because they changed you. They left an indelible impression on you. For you, they were POWERFUL WORDS. You already possess words of power inside of you which can change the lives of others for the better. They reside within the stories of your own life experiences. You can learn how to connect with them so you can connect with others better on an emotional level.
Read more about POWERFUL WORDS...
The words which hold the most power for you are the ones which move you on a deep emotional level. If you and another person share the same Powerful Words, you will be connected to that person and they to you, even if they are a stranger. This book is about finding your Powerful Words and using them in whatever you do as you set out to help others in whatever capacity you choose. It is about telling your story, your personal truth. This is where your greatest influence resides.
Imagine yourself writing something which moves people on a deep, emotional level, which proves helpful to them. Imagine delivering a message in a talk, which brings people to their feet to applaud in appreciation of you for a message you delivered because they know it has changed their life. Imagine people writing letters to you or sending emails to you expressing their appreciation for how much you were able to help them.
You have the ability to do all of those things and more using your own POWERFUL WORDS. You do not have to be a poet. You do not have to be a literary genius. You do not have to conjure Powerful Words up from nothing. They are already there inside of you, right now.
Get POWERFUL WORDS today and learn –
The 5 key characteristics of POWERFUL WORDS.
The POWER of WORDS and STORY.
How to discover, uncover or re-connect with your own WORDS of POWER.
How to CONNECT with others on an emotional level using YOUR WORDS of POWER.
Maximizing the impact of YOUR MESSAGE and how to share it with the world.
Why the world needs to hear YOUR WORDS, YOUR STORY.
How POWERFUL WORDS can help you as you endeavor to help others.
How to build a lasting legacy.
You can purchase the paperback version of POWERFUL WORDS directly from this website by clicking on the Add to Cart button below.
This book is also available at Amazon in both paperback and Kindle versions simply by clicking HERE.
*******************
The Graduate's Handbook – Your No-Nonsense Guide for What Comes Next
The Graduate's Handbook is a gift book for graduating high school, college and graduate students of any age. The most memorable gift you can give to a new graduate is sound, actionable advice for a successful life. This keepsake book contains some of the hardest easy lessons I've ever learned. For a head start on a life of passion and purpose, this gift book imbues graduates with hope, inspiration, motivation and the truth about living life on life's terms.
The Graduate's Handbook is more than a thoughtful gift book – it offers insight on careers, procrastination, reality-based living, fear, failure and relationships. Page after page includes profound quotations from dozens of successful authors, philosophers, historical figures and some of my best quotes as well.
Graduates can make this book extra special by writing their future goals down in a special space in the front, which they can look back on years from now to see how far they have come! Each gift book includes an area for inscription to make it a personal gift from you.
Whether you are buying for a high school or college graduate, this keepsake will guide and teach them for many years to come!
For now, you can only purchase your paperback copy of The Graduate's Handbook – Your No-Nonsense Guide for What Comes Next directly from this website by clicking on the Add to Cart button below. Published by Morgan James Publishing, the official national launch date is October 4th, 2016, when it will become available in bookstores all across the US.
The Maslach Burnout Inventory (MBI)
The Maslach Burnout Inventory (MBI) remains the industry gold standard for measuring workplace job related burnout (JRB).
Soon, this assessment tool will be available here for purchase.
The DISC Personality Profile
Soon, this personality assessment tool will be available here for purchase.
Please stayed tuned!
If you would like information on bulk purchases or for any other matter, please do not hesitate to contact me directly by calling 919-394-7742 or clicking on the CONTACT button below.