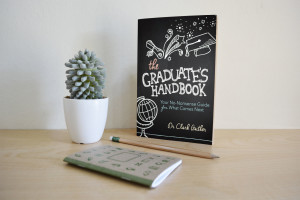 The Graduate's Handbook is a gift book for graduating high school, college and graduate students of any age. The most memorable gift you can give to a new graduate is sound, actionable advice for a successful life. This keepsake book contains some of the hardest easy lessons I've ever learned. For a head start on a life of passion and purpose, this gift book imbues graduates with hope, inspiration, motivation and the truth about living life on life's terms.
The Graduate's Handbook is more than a thoughtful gift book – it offers insight on careers, procrastination, reality-based living, fear, failure and relationships. Page after page includes profound quotations from dozens of successful authors, philosophers, historical figures and some of my best quotes as well.
Graduates can make this book extra special by writing their future goals down in a special space in the front, which they can look back on years from now to see how far they have come! Each gift book includes an area for inscription to make it a personal gift from you.
Whether you are buying for a high school or college graduate, this keepsake will guide and teach them for many years to come!
For now, you can only purchase your paperback copy of The Graduate's Handbook – Your No-Nonsense Guide for What Comes Next directly from this website by clicking on the Add to Cart button below. Published by Morgan James Publishing, the official national launch date was October 4th, 2016, so it is also available now in bookstores nationwide.