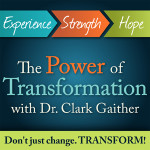 What is it about change? Some people resist it, fear it, avoid it and even run from it. Why? Change is inevitable. It is part of the human condition. Not wishing to change at all would be entirely outside of the human experience. Yet, people are loath to change. Why?
To TRANSFORM from the life you have to the life you want may require a great deal of change. There are four steps you can take that will help you achieve your preferred future.
Please join me, Dr. Clark Gaither, as I explore this and more in this episode of The Power of Transformation.

Podcast: Play in new window | Download