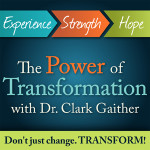 Previously, in parts 1 and 2 of this series on professional burnout I have discussed the definition of burnout, the symptoms, the causes, methods of prevention and proven ways to relieve or stem the effects of burnout.
But, there is one absolutely essential aspect of professional burnout that must be addressed before any meaningful resolution of symptoms can occur. Doing so will  bring people to the polar opposite of burnout – engagement.
Please join me, Dr. Clark Gaither, as I discuss this and much more in this episode of The Power of Transformation.

Podcast: Play in new window | Download