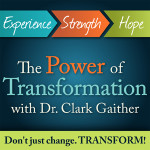 Regrets. Who doesn't have regrets? Some people say they have no regrets. Really? None? I find it hard to believe there are people who have absolutely nothing in their past that they wouldn't go back and change if given the chance.
I for one have many regrets. For those of us who do have regrets, what should we do with them? We are unable to change our past and we can't forget the past so there is no use in trying.
So, how do we square undesirable actions, deeds and behaviors from our past with living in the present?  Should we run from our past regrets or celebrate them?
Please join me, Dr. Clark Gaither, as I discuss this and more in this week's episode of The Power of Transformation.

Podcast: Play in new window | Download