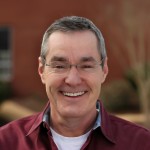 There is an old Chinese proverb, "The best time to plant a tree was 20 years ago. But the second best time is today." Sowing seeds for future harvesting provides us with a powerful metaphor for living. Transformed living means taking that concept to the next level.
There was a man once who lived in the 1800's, a true American pioneer, journeyman and nurseryman. He was an eccentric but in the best ways imaginable. He was born John Chapman on September 26, 1774 and lived an extraordinary life before his death at the age of 80 in 1845.
You may not recognize his name but his legacy remains to this day. He left his mark across the frontiers of the American landscape. You see, Johnny had a thing for apples and orchards.  He didn't just plant apple tress randomly here and there, he planted entire nurseries for much of his adult life.
In fact, he would plant nurseries instead of orchards, build fences around them to protect them, leave them in the care of neighbors who sold trees from them and shared in the profit, and Johnny would return every few years to tend to the nurseries.
He introduced apple trees and built nurseries to large parts of Pennsylvania, Ohio, Indiana, West Virginia and Illinois. One such nursery had over 15,000 trees. He was a lover of all animals, even insects, and would go out of his way to care for them and protect them.
Once he heard of a horse that was to be put down so he bought the horse, purchased a few grassy acres nearby and put the horse on the property to recover. The horse did recover. He gave the horse to someone in need after requiring a promise form them that the horse would be treated well and humanely for all of his remaining days.
He became a legend while he was still living due to his kindness, generosity, and leadership in the arena of conservationism. Johnny was quick to preach the Gospel as he traveled and converted many Native Americans whom he deeply admired. The Native Americans considered him as someone touched by the Great Spirit and even hostile tribes would leave him alone to pass by unharmed.
He had few possessions other than land for his precious nurseries. He wore old hand me down clothes and was often found scantly clad. He would make mush in an old tin pot which also served as his hat. You know him, of course, by the iconic moniker of Johnny Appleseed.
Throughout his life he sowed much more than apple seeds and he was able to harvest much more than apples. Few people understood as Johnny did the concept and value of planting seeds now for the greater harvest later, that the fruits of your labor are not seen or enjoyed at the time of the planting, but later on in time.
None of us possess a crystal ball to tell us exactly how our futures will unfold. But, I predict that if we are diligent today, if we serve with passion and purpose, if we plant an abundance of seeds using our natural talents and abilities, a bountiful harvest of plenty will follow.
Have you sown seeds for future harvests for yourself and others today?