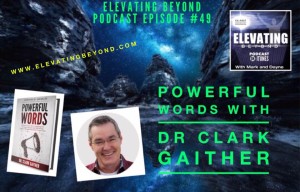 I had the distinct pleasure of appearing as a guest on the podcast Elevating Beyond with hosts Mark Minard and Dayne Gingrich to discuss my recently published book, POWERFUL WORDS. These guys are awesome! Their podcast has a large and rapidly growing fan base. After listening to some of their episodes, you will know why. If you would like to listen in on our conversation, here are the links:
Listen Now on iTunes–>💥https://itunes.apple.com/…/elevating-beyond-ma…/id950099063…
Listen On Hipcast—>💥http://hipcast.com/podcast/HBVK3Drs
I hope you enjoy the show as much as I did being interviewed by these two most excellent hosts, Mark and Dayne!